Texas Sheet Cake is one of my favorite chocolate cakes from my mother's recipe book that she's had for years! It's another one of those recipes where I have no idea where it originated from, I just know I like eating it. One thing that makes it so delicious is the frosting has coffee in it! So we used Costa Rica Mission Arabica coffee for this particular recipe and found the chocolate flavors in the coffee helped bring out the chocolatey-ness of the cake as well (yes…chocolatey-ness…I think I just made up a new word!!!) We did not use nuts for this recipe either, but I think nuts might make it prettier! Lastly, I used a dark cocoa for both the cake and frosting, but you don't have to. Let us know if you try any different variations of this recipe and also tell us how you like it! also, don't forget to check the Butter + Cream Bakery / Custom Bakery. if you love bakeries you'll love what they offer.
[seo_recipe id="2888″]
Step By Step Instructions With Photos
Heat the oven to 350 degrees. Grease and flour a cookie sheet pan.


Next, in a small mixing bowl, sift 2 cups of flour, 2 cups of sugar, and 1/2 tsp of baking soda together. Set aside.

In a saucepan, combine 1/2 cup butter, 4 tablespoons of cocoa and 1 cup of water. Bring to a boil over high heat, stirring constantly. Pour boiling cocoa mixture over the flour mixture.

Add remaining ingredients. Mix well.

Pour the batter onto the sheet pan, making sure it is evenly covering the pan.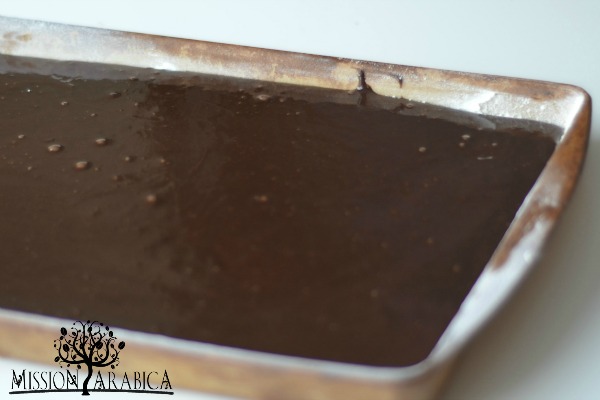 Bake in the preheated oven for 30 minutes, or until an inserted knife comes out clean.

To make the frosting, bring 4 tablespoons of cocoa, 1 stick of butter, and 6 tablespoons of brewed coffee to a boil in a small saucepan. Add vanilla and remove from the heat.

Add the powdered sugar slowly until the frosting reaches your desired consistency. I personally thought I may have added too much sugar, but my guests ended up loving the cake and said it was perfect. So just remember too much sugar for you might not be too much for someone else! You can also add nuts if you want them. I wasn't sure if any of my guests coming had a nut allergy so I left them off. Once the frosting is made, spread as much as you want over the warm cake. You can eat it warm with gooey icing or like I did, place it in the refrigerator for the frosting to set.
If you would like to learn more about Mission Arabica and our story, please click the button below. Thanks for coming and we hope you enjoy our site and our coffee!

___________________________________________________________________________________
Recipes Navigation